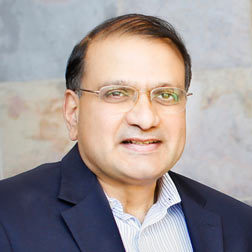 Nigel Lobo, Chief Operating Officer
With more than 25 years in the hospitality industry, Nigel Lobo extends his experience and expertise to lead the ResorTime team. The Chief Operating Officer of Grand Pacific Resorts — the parent company of ResorTime — Lobo drives the strategy and management of resort operations, including revenue and inventory management, owner services and HOA support, resort maintenance, design and purchasing, new business development and the rental division. Lobo has a vast background in the hospitality industry, working with various hotel brands including Oberoi Hotel Group, Intercontinental Marriott, and Hilton Brands in Asia, Europe and the United States. Under his guidance, ResorTime adheres to strict standards of excellence.
Jeff Farr, Vice President of Revenue Strategy and Operations
As Vice President of Business Strategy and Operations, Jeff Farr develops and implements the strategic direction for ResorTime, ensuring ResorTime's position as trailblazers in the vacation rental industry, while adhering to a high level of excellence in customer service. A veteran in the travel field, Farr previously held leadership positions with LeisureLink, a company that specialized in vacation rentals and timeshare resorts, and CSA Travel Protection, a business dedicated to providing insurance and emergency assistance services to travelers. Farr brings his extensive online travel business experience to the ResorTime team.
Lisa Wanzenried, Vice President of Business and Market Strategy
Lisa Wanzenried brings almost 20 years of travel industry experience to the ResorTime team, driving the company's overall business and market strategy. Previously serving as Director of Strategic Alliances, Wanzenried was promoted in 2014 to her current role thanks to her forward-thinking guidance and exceptional leadership skills. Prior to ResorTime, Wanzenried served several roles of escalating responsibility at CSA Travel Protection before joining the Grand Pacific Resorts family in 2013. Wanzenried supports the company's mission to offer exceptional service to customers, and maintain a high level of excellence.