As autumn paints the world in stunning colors, join us in celebrating the season's beauty. We've put together a list of the best places to enjoy fall foliage around Lake Tahoe. Whether you love hiking or prefer a leisurely drive, Tahoe has something for everyone. Explore our handpicked destinations for a memorable day trip during your next autumn visit to Tahoe.
North Lake Tahoe
Olympic Valley & Truckee River Bike Path
Of course, you don't have to travel far to see some great fall scenery. Our very own Olympic Valley is home to plenty of aspens, as well as the rich vibrant hue of the late season valley floor. Walk or rent a bike and travel down the paved bike path that takes you from Olympic Valley all the way to Tahoe City. Here you can enjoy the cool autumn breeze as you make your way along the banks of the beautiful Truckee River.
Mt. Rose Meadows – Incline Village, NV
Located just a short drive from our North lake Tahoe resorts, the Mt. Rose Meadows area is not to be missed and offers incredible fall colors alongside immense views of both Tahoe and the Great Basin of Nevada. This stop is ideal for a quick hike and there's ample parking available. No matter what direction you hike, you're sure to see some great scenery like the vast vistas of Chickadee Ridge or the tall aspens down in the Third Creek drainage. Just remember to bring sturdy shoes and water!
Old Highway 40/ Donner Lake – Truckee, CA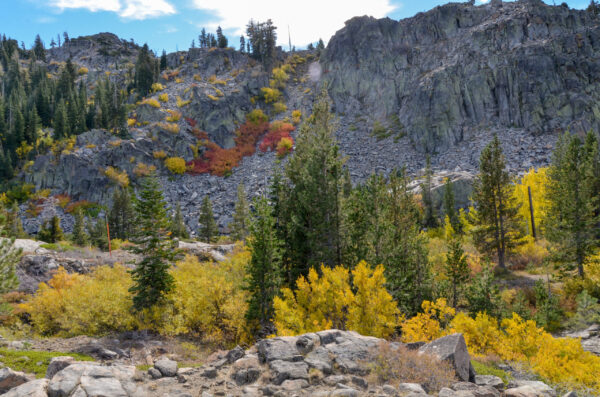 This is the perfect option for those who don't have a full day for sightseeing, or who want something drive-able and close by. Located just west of the town of Truckee, Old Highway 40 takes you along the north shore of Donner Lake and up into the granite buttresses of Donner Summit. This is a great 1-2 hour loop by car and offers no shortage of vibrant aspens, tall granite peaks, and breathtaking mountain meadows. Our recommendation would be to follow Old Highway 40 to Soda Springs, and then return to Truckee along Interstate 80. Don't forget to stop at Donner Lake Kitchen!
South Lake Tahoe
Emerald Bay/ Camp Richardson/ Fallen Leaf Lake – South Lake Tahoe, CA
If you are up for a day trip then we highly recommend traveling down Tahoe's west shore and exploring the fall foliage near Emerald Bay. There are plenty of fun and fast hikes in this area, like Eagle Falls, Vikingsholm Trail, and the Rubicon Trail. You can also opt to drive to Camp Richardson and enjoy a picnic on the shores of Lake Tahoe. Finally we would recommend the quick drive up to Fallen Leaf Lake to enjoy the peace and quiet of the fall season under the towering peak of Mt. Tallac! 
Hope Valley
Located a quick 26 minutes from South Lake Tahoe (1hr from Tahoe City), sits Hope Valley. Trust us when we say you will be well rewarded for making the journey to Hope Valley. This is arguably one of the best areas for fall color anywhere in the region. With ample opportunities for hiking, biking, fly fishing, and more; we'd recommend planning for an entire day to explore this incredible area. Travel up to Carson Pass and hike out the Rim Trail towards Winnemucca Lake. You can also visit the Desolation Hotel – Hope Valley, a nearly 100 year old property! Here you can even stop at the Sorenson's Restaurant and enjoy an incredible lunch that far exceeds your expectations for a cafe this far off the beaten path!
Your Fall Adventures Await
Fall is actually one of the best times to visit Lake Tahoe. From the changing colors to the lack of crowds, we truly think this is one of the most ideal seasons for all-day outdoor fun. Check out our booking page for availability today and start planning your fall stay!