When Micole and his wife Teri started making bathtub wine for fun 10 years ago, they had no idea their experiment would flourish into a sprawling 10-acre estate featuring award-winning blends—and become the only Certified Sustainable winery in San Diego.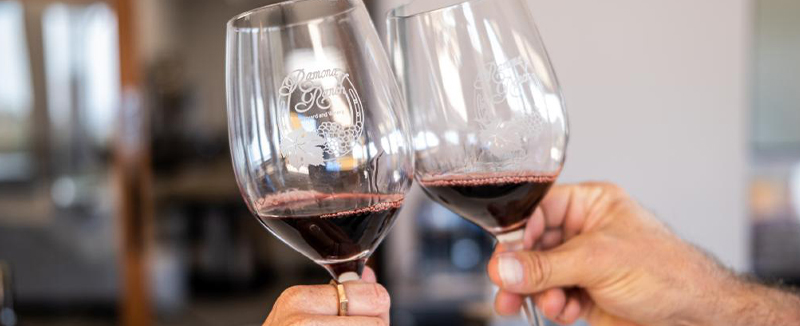 Ramona Ranch Vineyard and Winery makes all of its wine onsite, which guests can savor in the brand new tasting room that provides sweeping views of the spectacular Ramona Valley below. The property is also home to ponies, goats, and even a steer, along with several cats and dogs, all of which are rescues.
From being 40 percent solar-operated to using an organic fermentation process, Ramona Ranch undergoes a rigorous Wine Institute audit each year in order to maintain its sustainability status.
And the successful winery only continues to expand, with a food license on the horizon, while also helping nearby wineries become sustainable as well.
Delicious wine that's good for the planet? We'll raise a glass to that! Plus, it's just 10 miles from San Diego Country Estates so book your stay and try the only Certified Sustainable winery in San Diego for yourself!
Winemaker's Picks:
· Super Tuscan: bold, flavorful, versatile
· Symphony: limited edition hybrid grape
· Rosé: summery, light, refreshing